Based on the corporate philosophy and vision outlined below, we hope that you'll meet our products, find your own beauty, and feel a sense of joy.
Corporate Philosophy
Seeking true beauty
What we offer our customers is more than a product. We offer something intangible: Magokoro comes with every one of our products. To us at MENARD, Magokoro means a sincere dedication to brightening people's lifestyles and contributing to society through beauty.
It means treating everyone with kindness. And it means thinking sincerely about what we can do for our customers' beauty, then putting it into practice. We hope to be your most trusted beauty advisor and consultant. "Seeking true beauty": to us at MENARD, these are words to live by.
Vision
Contributing to society by fostering an aesthetic lifestyle
We want to help each and every woman enjoy her lifestyle and sparkle every day through the satisfaction and serenity that beauty can bring. We hope this sparkle will spread from one person to another, like a ripple effect, until the world overflows with smiles. To us at MENARD, beauty is more than just cosmetics. Daily living, culture… it's all part of the aesthetic lifestyle.
Business description
For Women seeking true beauty throughout the world
Global expansion
Our business outside Japan, which started in Asia, has now expanded to a total of 23 countries and regions throughout the world: 9 countries and regions in Asia, 2 countries in North America, and 12 other European countries. We have established subsidiaries in 8 countries and regions, and expanded our network in 15 countries leading to an increase of the number of Menard users worldwide.
We are also running our own salons where we offer our quality aesthetic treatments (in Paris, Monte-Carlo and Hong Kong).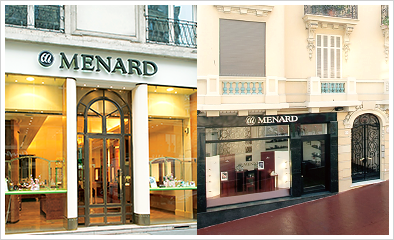 Omotenashi (Hospitality) of Aoyama Resort
Aoyama Resort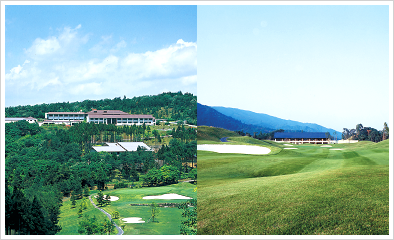 This beauty- and health-themed resort allows you to pamper yourself in a moment of omotenashi in an open environment surrounded by nature, away from the hustle and bustle of everyday life, to feel healthier and more beautiful both in body and mind.
Menard Aoyama Resort is a resort complex (located in Iga City, Mie Prefecture) that offers exceptional relaxation and consists of a rich array of facilities—beyond just lodging facilities—where you can enjoy hot springs, aesthetic beauty treatments, bino kukan programs, golf, herbal gardens, hands-on craft activities, and more.
A wonderful place to encounter beauty
Art Museum
Menard Art Museum opened in 1987 in Komaki City, Aichi Prefecture, where the founder of Nippon Menard Cosmetics, Daisuke Nonogawa, and his wife Mitsuko are from. It was established to exhibit to the public artwork that Mr. and Mrs. Nonogawa collected for over 20 years.
The art museum features quite a diverse collection of Western paintings, Japanese-style and Western-style Japanese paintings, crafts, sculptures and antiques, totaling over 1,500 pieces in all—including works by the world's most renowned artists like Monet, Van Gogh and Picasso—which has earned it an excellent reputation both inside and outside Japan.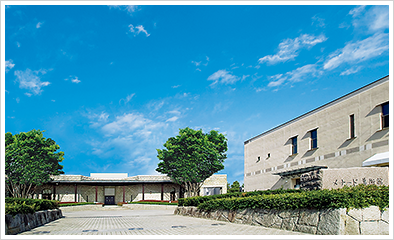 The things that lead to beauty are unlimited
Aesthetic and hair salons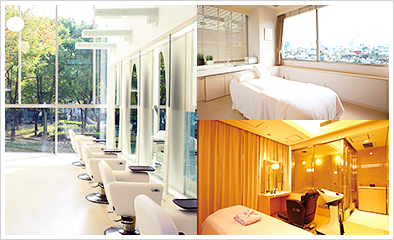 Aesthetic treatments by Menard ensure the ultimate relaxation that only a cosmetics manufacturer can offer by making effective use of its original cosmetic products and meticulous hand techniques. Our aesthetic method, which combines findings from our advanced research with traditional techniques from both the East and the West, truly relaxes your skin and mind, leading to genuine beauty. It is our pleasure and desire at Menard to stand by women and help them shine throughout their lives.
Menard runs its own salon—named BILEC—in Nagoya, Omotesando (Tokyo) and Aoyama Resort (Mie).
Food for beauty and health
Food business and bakeries
We regret to inform you that we have suspended the activities of Brancious as of 31st January 2021.Thank you very much for your patronage over the years!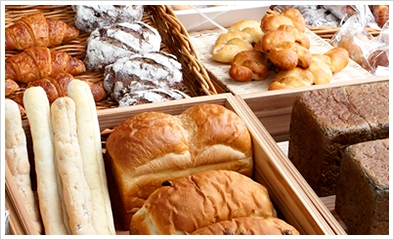 Menard Hair & Make up Artistic Professionals
MHMAPS International
MHMAPS is a hair and makeup artist team involved in creating TV ads and photo shoots of Menard products, as well as working backstage at fashion shows. In particular, MHMAPS International, which was established in 2002, is a special team that works mainly for the Paris Fashion Week and other overseas events. The team's skills and expressive ability are at the forefront of the cosmetics world.
About us
Company Name

Nippon Menard Cosmetic Co., Ltd.

Head Office

3-18-15 Marunouchi Naka-ku Nagoya 460-8567 JAPAN

Established

November 17, 1959

Representative

Junichi Nonogawa, President

Web Site

Capital

74 million yen

Main Business Activities

Cosmetics & Health Foods Production and Sales

Domestic Bases

Research Institute
Factory(Inazawa Factory, Noguchi Factory)
Distribution Center Sales Outlets: 19 Branch Stores

Overseas Bases
History
Nippon Menard Cosmetic Co., Ltd. Founded in Japan

Headquarters built in Nagoya, Japan

Inazawa Plant built in Japan

Noguchi Plant built in Japan

Chuo Research Center established in Nagoya, Japan

Beauty and Spa Salon Menard BILEC opens in Japan

Menard Aoyama Resort opens in Mie prefecture, Japan

President Daisuke Nonogawa was awarded the Medal with Blue Ribbon from Government of Japan

Menard Art Museum opens in Komaki, Japan

Menard Cosmetics Inc. (joint venture) established in Taiwan

Malaysian production company of Nippon Menard Malaysia Sdn. Bhd. (joint venture) established


Daisuke Nonogawa, president, becomes company chairman,
Junichi Nonogawa, vice president, becomes president

Chairman Daisuke Nonogawa was awarded the Third Order of the Sacred Treasure from Government of Japan

Menard Beauty Academy opens (Certified by the Association of Japanese Estheticians and Beauty Therapists) in Nagoya, Japan

Chinese production company of Suzhou M&Y Cosmetic Co., Ltd. (joint venture) established

General research center established in Nagoya, Japan

Suzhou Plant built in China

Menard Aoyama Resort opens aroma therapy facility in Japan

Malaysia plant earns ISO9001 certification

China plant earns ISO9002 certification

New Malaysian Plant built
Nippon Menard Cosmetic Co., Ltd. Paris Liaison office established in France (2011 closed)

MHMAPS (Menard Hair & Make-up Artistic Professionals) activities start

Co-sponsorship of Nagoya International Women's Marathon(until 2011)

President Junichi Nonogawa receives Chevalier Medal from Government of French

China Plant earns ISO9001 certification

Nippon Menard France S.A.S. established

New headquarters built in Japan

Menard total beauty space (Esthetic Salon CHAMPS BILEC, Hair & Make Salon MHMAPS) opens in Nagoya, Japan

Inazawa Plant in Japan earns ISO14001 certification

Menard Institute Paris opens in France

Suzhou Menard Cosmetics Co., Ltd. established

Menard Facial Salon business begins in Japan

Inazawa Plant in Japan earns ISO9001 certification

Menard Cosmetics (H.K.) Co., Ltd. established

Chairman Daisuke Nonogawa receives honorary citizenship of Komaki City in Japan

Beauty and Spa Salon Menard BILEC gets renewed

The Department of Applied Cell and Regenerative Medicine established at Fujita Health University's School of Medicine in Japan
Suzhou Plant expanded

S.A.R.L. Nippon Menard Monaco established

Menard Institute Monte-Carlo opens in Monaco

Nippon Menard Cosmetic's 50th Anniversary

Menard BILEC Omotesando opens in Japan

Starts supporting "*Room to Read Japan" as a contribution to International Women's Day *Education system for girls

Co-sponsorship of Nagoya Women's Marathon as a gold sponsor in Japan(until the present)

Nagoya University - Menard Collaborative Research Chair establishes at Nagoya University Graduate School of Medicine in Japan

Comprehensive agreement about industry-academia partnership regarding

Mie University and Menard Aoyama Resort

Japan's Emperor and Empress visit the Menard Art Museum in Japan

Menard Art Museum's 30th Anniversary

The passing of Chairman Daisuke Nonogawa

Nippon Menard America Inc. established